It's a sneaky, unfamiliar fungal infection that many people struggle with but don't even know it.
Common Symptoms of Candida Overgrowth:
If you can relate to any of these signs & symptoms and you suspect that you are experiencing Candida overgrowth, the good news is that you can heal it naturally, through diet, nutrition & wellness practices.
My Candida Overgrowth Journey
I've been struggling with recurring yeast infections and vaginal health issues for most of my life.
But it wasn't until my early-30's when I was going through a period of extreme stress in my personal life when my Yoni health drastically changed.
I suffered from recurring vaginal yeast infections 1-2 times per month, as well as bouts of bacterial vaginosis which sent me on many trips to the doctor to take rounds of antifungal and antibiotic medications. 
I had severe brain fog where it was hard to remember things that happened the day before. I was exhausted all the time, no matter how much I slept. I struggled with a sinus infection that wouldn't go away.
At the age of 32, I got such bad cystic acne on my face, I was embarrassed to go out in public. Here is a before and after photo of me – you can literally see the candida overgrowth on my face (left), and how my face looks now, living a candida-friendly lifestyle!

I visited many doctors, who would just send me home with a prescription, not understanding what was really going on with me and why this kept happening. It got so bad where not even the medication worked anymore.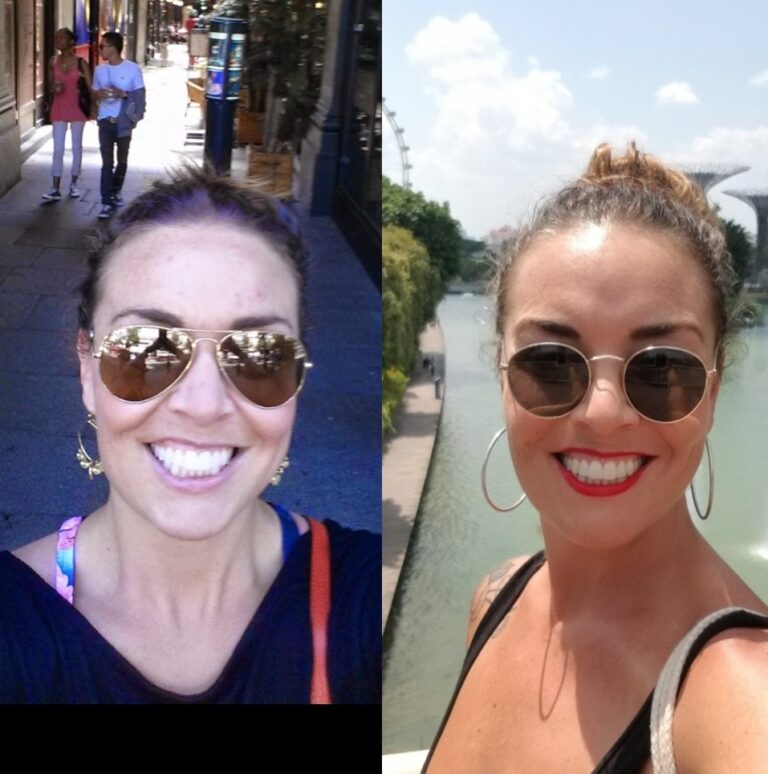 I was desperate, frustrated, and helpless. But I was determined to get to the bottom of it. I started to do my own research and discovered that I was suffering from a Candida overgrowth, and that what I was eating was the contributing factor. I learned that all I had to do was change my diet to eliminate the foods that were feeding the candida, and it worked!
If you think you may be experiencing Candida overgrowth, learn how you can eliminate Candida naturally through diet, nutrition and wellness practices.
Holistic Nutritionist and Wellness coach helping people world wide reclaiming their (sexual) health. Find me on Social media below. Let's connect!
Looking for answers yourself?
Get in touch and let's have a chat!